The Probability Analysis of Texas Holdem
The Probability Analysis of Texas Holdem
a simple complete strategy based on computational science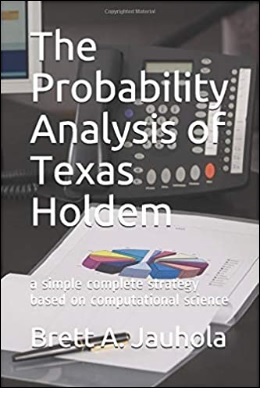 The Probability Analysis of Texas Holdem is a simple complete strategy based on computational science. The strategy will give you a good foundation, so that you will know what to play based on statistical advantage. Besides knowing the odds, seasoned poker players use other skills such as reading players, bluffing, and betting strategies that improve their advantage over other players.
This book is for both beginners and advanced players with simple instructions. Knowing the statistical advantage and incorporating other winning strategies will greatly improve your game.
'The Probability Analysis of Texas Holdem' was written and designed as a teaching aid and a reference guide for review. The first half of this book explains the types of hands you should play. The second half of this book contains hand examples. There are examples for preflop, flop, turn and river hands. After learning the strategy, study these hands and learn to recognize winning hands quickly.
Available at AMAZON BOOKS in paperback and KINDLE!
---